HR PROF THE ECO – FRIENDLY FIRE RETARDANT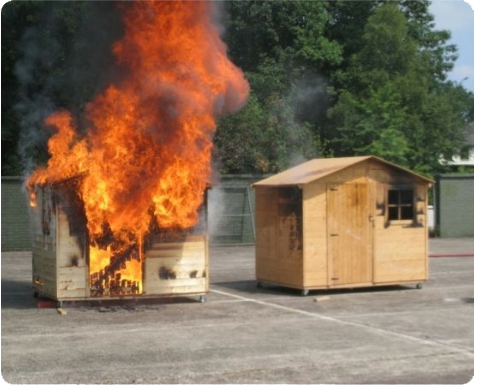 HR Prof Fire Retardant for Wood which is water based and ECO friendly, now has a comprehensive Classification Certificate from EXOVA BM TRADA for wood species assessed against EN13501-1:2007-A1:2009, EN 13501-2:2007+A1:2009 and the BM TRADA A-MARK Scheme Technical Document "Verification of FPC and classification of products with a higher reaction to fire or fire resistance requirements according to EN 13501"
HR Prof certificates from: BM TRADA, BRE, TUV, MEKA Forest & Wood testing Institute and SP Laboratories of Sweden, on the following wood species: Spruce, Pine, Western Red Cedar, Scotch Larch, Siberian Larch, Sucupera Amarela, Thermowood and Oak all Euro-class B-s1-d0, Birch plywood C-s1-d1, indicative test results for Accoya B-s1-d0.
The manufacturing process for HR PROF has been audited by EXOVA BM TRADA and found to meet the requirements of standard : ISO 9001:2015 Quality Management System
HR Prof Fire Retardant treated substrates were tested at SP Technical Research Institute in Sweden and passed the rigorous NT 053 external use weathering tests, where fire retardant treated wood is exposed to 1000hr accelerated weathering by cycles of rain, drying, and UV light, before fire testing, according to the cone calorimeter.
For further information on HR Prof fire retardant visit www.fireretardantuk.com or email [email protected]
HR Prof Fire Retardant: For use both internally or externally, easy to apply by spray, brush, roller or vacuum, specified on many large projects throughout the UK, including Olympic Stadiums, schools, universities, airports, hospitals, and many other public and private buildings.