Clad in success
New Dublin construction business set to hit a million in its first year
The new branch of a major architectural products supplier, which started trading in Dublin just eight months ago, is on target to hit the €1 million mark in its first year of trading. Vivalda, which is the UK market leader for the supply of cut-to-size cladding and facades for the construction industry, opened its doors in August 2017 and has seen its wide range of products find a receptive market in Ireland.
The fast-growing business is backed by its UK-based parent company, which has nearly 20 years of experience in the specialist architectural claddings sector.  Product safety and good quality service are the key reasons for Vivalda's popularity in the Irish market, according to branch manager Darren Bowden, who hails from Athy, Co Kildare.
He explained: "In the light of the dreadful events of Grenfell Tower in London, fire risk is understandably at the top of every architect's and developer's agenda. We distribute all the industry's most respected brands, the vast majority of which are rated according to their ability to withstand fire, which gives our customers the assurance they need when specifying external cladding for major projects.
"We also take great care preparing our façade boards before they are delivered on-site; ensuring that cladding is cut to exactly the right size – a bit like a huge jigsaw – so that when the product arrives, it can be fixed in place immediately. We can even pre-drill holes into the material to ensure quicker project delivery. It's a continuation of the UK's off-site bespoke fabrication model, one of the fastest-growing markets in construction.
Asserting its safety credentials, Vivalda has recently won the contract to supply external cladding to Dublin's New Priory Hall Apartments, the construction of which had been halted due to fears over its previous poor fire rating.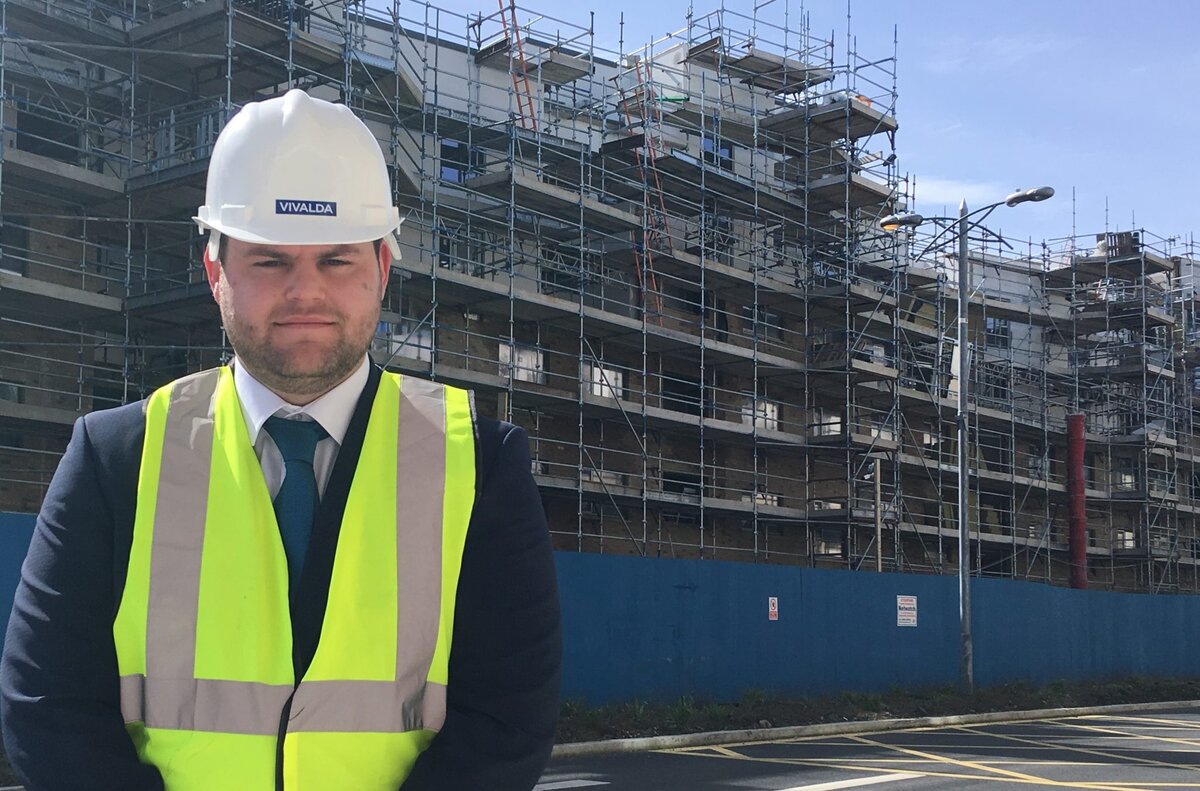 Now in the reconstruction phase, Vivalda has supplied Natura cladding as the preferred external façade because of its excellent fire classification.
Vivalda Ireland has big plans for the future. Darren said: "While I've been working closely with the UK team, mainly for technical support, I am confident that once we complete our first full year of trading, we will be taking on more people. We've also got plans to invest in our own cutting and drilling technology and are, even at this early stage, giving serious consideration to bring forward the programme if we see current growth rates maintained."
Vivalda Dublin's success is a good reflection of the strong growth seen in the construction industry across the whole island of Ireland. Darren concludes: "Certainly Aecom, the global construction company, recently predicted that we will see the sector grow by 14% for the rest of this year. And with such a positive mood in the industry, we're feeling optimistic about the future.
Vivalda Group has been a remarkable success story, thanks to the trust developed with architects, specifiers and contractors since it began trading back in 1999. Darren said: "Quality service and independence are the foundations of the business. We could never contemplate second best or outdated advice to customers, who now expect not only great products, great service but also informed, unbiassed advice on facades and cladding."