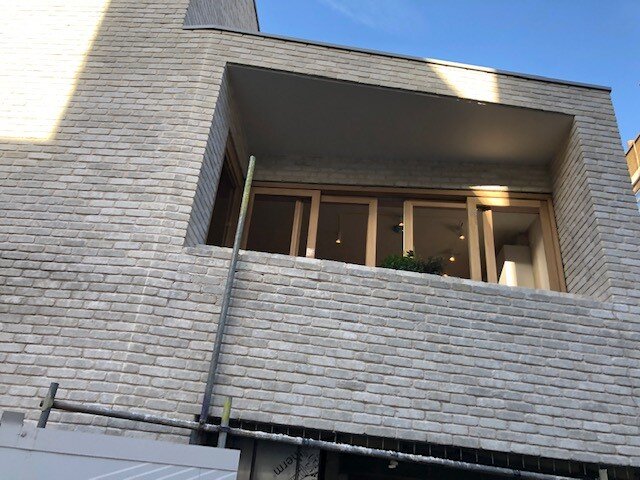 Delivering architecture and construction work of supreme quality, whilst ensuring the final build was sustainable, healthy and long-lasting were paramount for Work Ltd when designing Penfold Place.
Penfold Place is a London-based project, comprising seven new-build, one and two bedroom, residential apartments.
For the project to be successful, Work Ltd needed to work closely with a well-respected and trusted brand that could be relied upon to deliver a consistent, high-grade product.
Intricate brickwork
There were a number of challenges in achieving the perfect finish for the brickwork at Penfold Place.
The design called for bricks to be irregular – in both size and shape – but the homes had many acute and oblique angles which the brickwork needed to follow closely. As a result, when choosing the mortar to bond the bricks, achieving a consistent and high-quality finish was essential.
Work Ltd had used modern mortars, such as sand cement with plasticiser, in the past, but had experience using Lime Green's lime mortars on a few restoration projects. They found the consistency of Lime Green's mortars to set them apart. Each batch of product ordered has an identical colour and finish. This is achieved through measuring colours in each shipment to +/- 1g per tonne, enabling high repeatability and consistent quality.
Consistently beautiful
Lime Green's 'Chalk' coloured mortar was chosen to compliment the grey bricks and blackened window frames of the apartments.
Lime Green's mortars flex with the building as the temperature fluctuates, so fewer expansion joints are needed.
Lime mortar is also permeable which enables the building to 'breathe', meaning water – as a liquid or a gas – can pass through it, reducing the risk of the façade cracking through shrinkage over time.
A poignant project
"We have loved being part of the Penfold project," says Simon Ayres, co-founder and managing director at Lime Green. "Work was completely aligned with our core belief that every build should be a beautiful build which stands the test of time.
"That common goal made the project all the more enjoyable. We were both highly determined to achieve the same, high-quality, sustainable solution which has kept much of Britain's historic buildings standing for so many centuries."
For more information on how you can make your build a healthy build, visit www.lime-green.co.uk or speak to one of our team of trusted experts on 01952 728611.
This slideshow requires JavaScript.