Doing what's right should never be at the expense of quality and style. That's why we're dedicated to creating paints perfect for developers, home decorators, interior designers and trade folk that are better for the planet, your home and your health. So the most important choice you have to make is which of the fantastic designer colours to use.
Now, we're delighted to introduce The Earth Collection, a palette of five harmonious new paint shades inspired by the natural world.
Each colour is themed around the earth, land, sand, sea and clouds. Longevity and timeless appeal are at the heart of The Earth Collection.
Our new colours, and the full range of 72 shades on our Classic shade card, are available to buy online now, or from our fantastic network of stockists – click here to find your nearest.
This year, we're launching our new colours a little differently. With the environment, our health and well being at the forefront of everybody's minds, we're keeping things simple. The Classic Earthborn colour card will remain unchanged for now; instead we've created a simple bookmark displaying real painted swatches of our five new colours, which you can request (for free) here.
Crocky Road
Inspired by the earth, its faintest green undertone lends Crocky Road an easy, earthy quality.
Up Up Away
Inspired by the clouds, Up Up Away is cool, calm and collected. A relaxed off-white shade that's at home in all spaces.
Grassy
Inspired by the land, this elegant grey-green is reminiscent of misty, mountainous landscapes.
Skipper
Inspired by the sea, this warm denim shade has a casual charm.
Sandy Castle
Inspired by the sand, we've captured the feeling of sunlight on sand dunes to create our own take on cream. An all-round shade for walls and woodwork.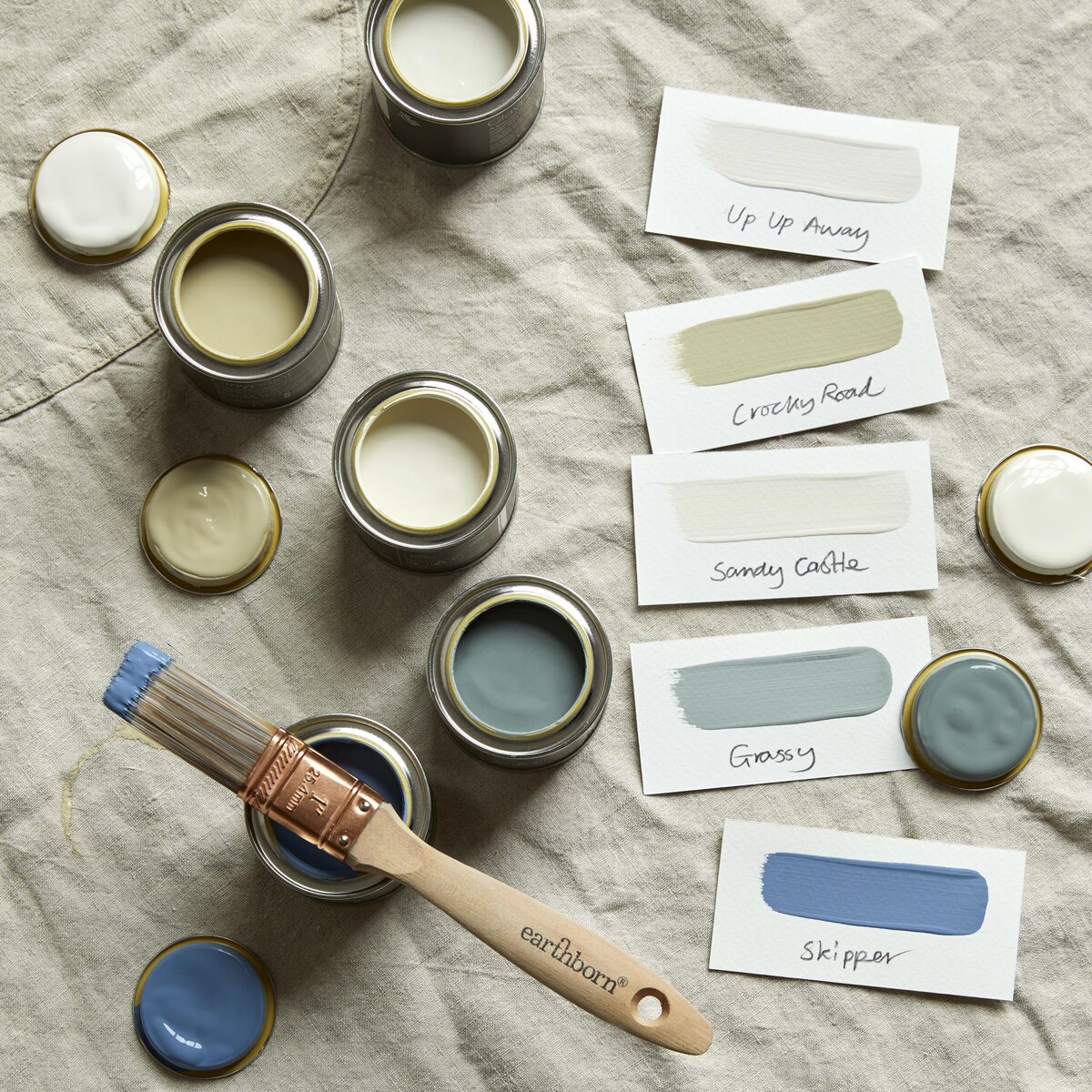 What makes our paints different is their high quality and high performance; the result of carefully selecting the right ingredients and using technologically advanced manufacturing processes and formulations. You won't find any acrylics or oils, but you will find a full list of ingredients to help you make a more informed choice.
We're proud to have been awarded the first UK licence of the EU Ecolabel for Indoor Paints and Varnishes. And we're even prouder that we've produced a range of environmentally-friendly designer breathable paints that everyone loves.