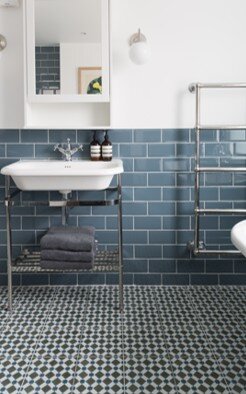 ALTHOUGH WE ARE PREDOMINANTLY KNOWN FOR OUR LADDER RAILS OF WHICH WE STOCK MANY DESIGNS AND SIZES WE ALSO SPECIALISE IN FEATURE RAILS AND OUR MORE TRADITIONAL RAIL, THE FLETCHING.
As always the Fletching is manufactured from 100% stainless steel with all the benefits this carries.  Stainless steel will not rust, flake or corrode.  Rails can be utilised in all systems including open.  Small scratches and dents can be polished out.  Furthermore there are no harmful chemical plating processes involved in its manufacture. Our towel rails are a durable and environmentally sound product.  The rails themselves are manufactured from over 90% recycled product and are 100% recyclable in themselves.
The Fletching with its ball joints is perfect in the more traditional bathroom but we are also seeing these rails increasingly in more individual design lead bathrooms.
The Fletching is available in the following sizes and either a polished or satin finish and in electric, dual fuel or central heating formats, the prices listed are for the central heating format polished.
• 1185mm x 520mm (BTU 1963) £724.95 ex VAT
• 910mm x 520mm (BTU 1431) £599.95 ex VAT
• 635mm x 520mm (BTU1020) £524.95 ex VAT
There is a further design the floor to wall model which stands at 1200mm high by 520mm wide has a BTU of 1858 and retails at £799.95 exclusive of VAT.
All towel rails within the Sussex Range by JIS Europe are manufactured from 100% stainless steel meaning all rails carry a 25-year guarantee.
We are still fully stocked. Customer Service, quality product and ethically sound sourcing are the cornerstones of our business.
Please do visit our website for further details www.sussexrange.co.uk
01825 722988
[email protected]