DEVELOPER OF GRADE II LISTED SUNDAY SCHOOL SINGS PRAISES OF VENTILATION SYSTEM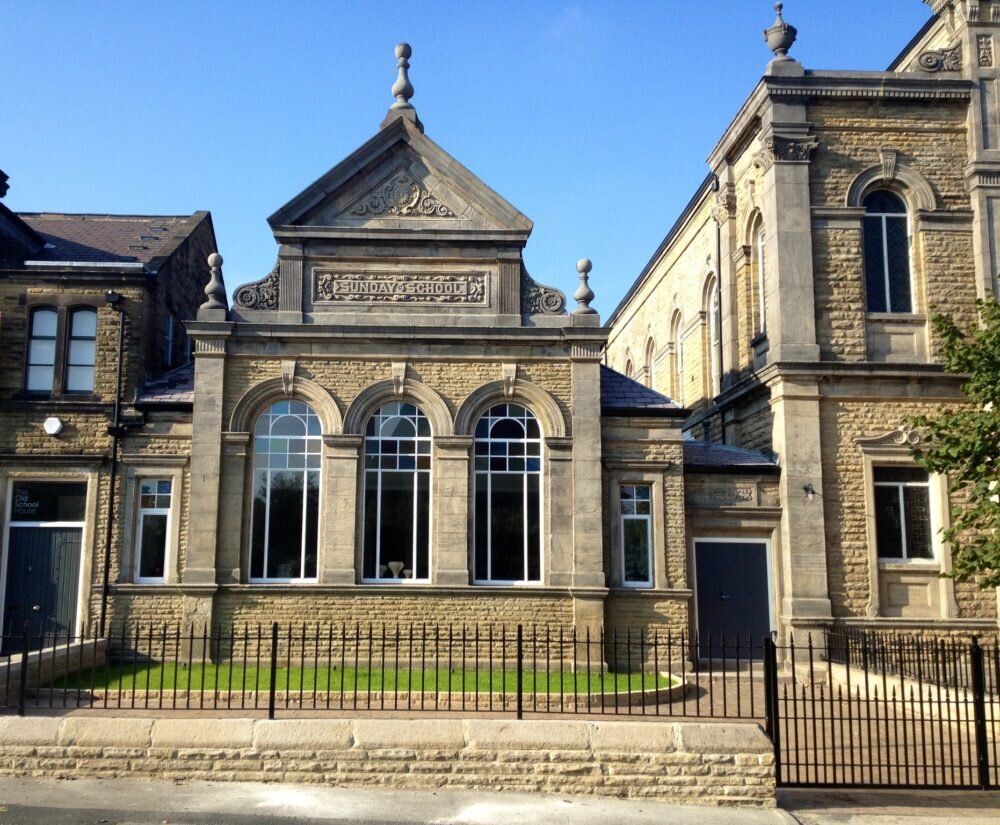 The Sunday School on Grove Road in the centre of Harrogate has undergone a sympathetic restoration and the occupants will experience all the benefits of a Mechanical Ventilation with Heat Recovery (MVHR) system from ventilation specialists EnviroVent.
Mark Hinchcliffe set his heart on sympathetically restoring both the Sunday School and adjacent former Wesleyan Methodist Chapel
The properties, which feature a bold Italianate design with lavish architectural embellishments, have been transformed into high specification dwellings. The Sunday School, which dates back to 1929, is the first project to be completed and will be featured on Channel 4 TV programme 'Restoration Man' later this year.
Mark Hinchcliffe said: "We have achieved our aim of making the Sunday School into a luxurious, high specification home and that meant installing a high quality ventilation system.   We choose an MVHR system principally because it makes the property much more energy efficient and it also creates a better indoor air quality, which is good for occupants and for the building."
Mark added:"I always try to use quality local suppliers, wherever I can, and EnviroVent offered a great choice of MVHR systems and some excellent advice.  I found both their products and service to be outstanding."
EnviroVent recommended an energiSava 380 MVHR system for the stunning 3,500 sq ft home, which stretches over three floors.
Mark Hinchcliffe continues: "It really was a no-brainer to go with the MVHR system.  We had brought the house up to modern building standards in all aspects, including insulation.  I liked the EnviroVent solution because it was subtle and unobstrusive, with just a single duct in each room – you don't even know that they are there. 90 per cent of the system is completely hidden in the ceiling and loft spaces, yet it delivers huge benefits! That means it works architecturally and doesn't detract from the beautiful interior design or period features."
Part of the award-winning Lifetime Range®, the energiSava 380 is a whole house heat recovery system, which provides all-year-round healthy indoor air quality.  The system is extremely easy to use, with its 'set and forget' controls and it intelligently tracks and monitors humidity levels, detecting any rise in humidity and increasing the extract rate.  The system is renowned for its energy efficiency, silent operation, whilst efficiently controlling condensation and maintaining a healthy indoor environment.
EnviroVent's range of MVHR (Mechanical Ventilation with Heat Recovery) systems use multiple extract points throughout the home to draw moist air out of the kitchen, bathrooms, and utility room. The MVHR system recovers around 90 per cent of the heat from this outgoing stale air, before feeding it back into the living room areas of the house as warm, fresh, filtered air, controlling relative humidity in the process.
The magnificent Grade II listed Sunday School has a wealth of period features, including a 25 ft high glass atrium and full height round arched windows and elaborate ceilings. The stone built four bedroom property also features an impressive dining room, cinema room, breakfast kitchen and its own private driveaway accessed via remote controlled wrought iron gates.
EnviroVent, which has its headquarters in Harrogate, North Yorkshire, is one of the UK's leading manufacturers of ventilation systems.  The company has over 25 years' experience in delivering sustainable products that are built to last the life cycle of a building.
As a UK manufacturer, EnviroVent has a network of approved installers throughout the country.  The company offers a complete service from survey, design and manufacture, project design, supply, installation and commissioning.