Your Need for Speed…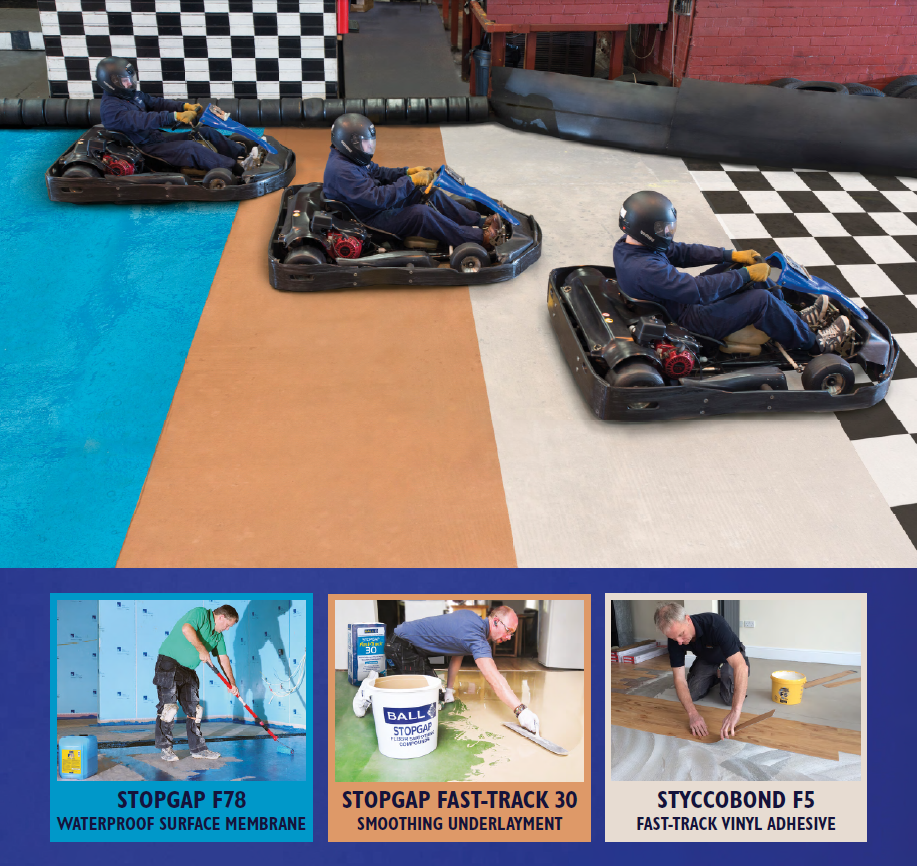 F. Ball have always put flooring contractors at the top of their list of priorities, developing new and innovative products that deliver the very best results.
All F. Ball products are specifically developed and extensively tested for the job in hand, and through the application of 'joined-up thinking' you can now combine their High-Performance, Fully Guaranteed products, that when applied in conjunction actually deliver better and faster end results.
 Fast-Track was born from F. Ball's incomparable expertise, as they know that the most valuable asset to any flooring professional is TIME. Wasted time means reduced profits. You need a professional flooring system that gets the job done quickly without compromising on quality.
 When you combine F. Ball's Stopgap F78 Waterproof Surface Membrane with Stopgap Fast-Track 30 and Styccobond F5 when laying vinyl flooring you can complete a full installation in a matter of hours, allowing difficult refurbishments in areas such as kitchens, residential home accommodation, bathrooms, student accommodation and in commercial situations where 'time' is critical because these areas cannot be closed for long periods… even in some public access areas.

Stopgap Fast-Track 30, F. Ball's Rapid-Setting, Rapid-Drying, Self-levelling Smoothing Underlayment contains the very latest advances in cement technology and provides a truly Fast-Track Solution and is suitable for use in light to heavy-duty applications for preparing sound absorbent and non-absorbent subfloors prior to the installation of new floorcoverings.
 Stopgap F78 impedes the passage of residual construction moisture, enabling early installation of floorcoverings in 'Fast-Track' building programmes. Stopgap F78 must be applied in two coats and can be used to isolate residual moisture where relative humidity values are up to 95% and is pigmented blue to enable uniform coverage – there's no mixing required and can be resealed and stored for future use, so eliminating waste too.
 The most recent addition to the F. Ball Range of 'Fast-Track Solutions' is Styccobond F5 – a Fibre-reinforced, Fast-drying, Solvent-free adhesive for installing vinyl floorcoverings in 'Time Sensitive' installations. Its Fast-Drying properties allow for very early placement of vinyl floorcoverings. Styccobond F5 is ultimately adaptable and can be applied to structurally sound, smooth, dry, absorbent subfloors of concrete and sand/cement screed, Stopgap smoothing underlayments, plywood and hardboard.
 So choose F. Ball 'Fast-Track Solutions'… you'll reduce the need for double site visits and halve your travel costs. You'll also claim back many hours in time and make more profit.
 F. Ball offer full product support from their technical reps and extensive website at www.f-ball.co.uk