KITCHENAID ICONIC FRIDGE AWARDED RED DOT DESIGN AWARD 2018

The KitchenAid Iconic Fridge has been awarded one of the world's most prestigious design awards – the Red Dot Award for Product Design.
The KitchenAid Iconic Fridge has been honoured with the award for invoking a sense of heritage with a beauty that is timeless. The 'Red Dot' is an internationally recognised hallmark for excellent design and quality, which is presented annually at one of the world's largest design competitions, the Red Dot Awards.
The Red Dot Award has a proud, six-decade, history and is organised by the Design Zentrum Nordrhein Westfalen in Essen, Germany. With the creation of the Red Dot brand in the 1990s, the sought-after Red Dot has gained global pre-eminence as a seal of outstanding design quality.
Inspired by the timeless, instantly recognisable and world-famous KitchenAid Artisan stand-mixer, the Iconic Fridge has been conceived from the outset as a new design classic. The bold personality of the appliance is embodied by the striking metal casing. The Empire Red KitchenAid Iconic Fridge (KCFME 60150R (UK)) brings colour into the kitchen and is a timeless icon for every passionate gourmet.
KitchenAid's brand DNA is boldly expressed in the highly polished, cast-metal, handle that is prominently placed horizonatally on the door. Mounted with the iconic KitchenAid medallions, the Iconic Fridge features subtle resonance with the 'steamline' style that first inspired the KitchenAid stand-mixer.
Lee Collett, Channel Controller, KitchenAid, says: "The KitchenAid Iconic Fridge is a masterpiece in the kitchen and a design object that rises above trends, asserting itself as a timeless icon. The Red Dot Award for Product Design is selected by a 40-member international jury of designers, leading academics and respected journalists and is awarded from among tens of thousands of products.
"To receive the coveted Red Dot Award for Product Design really endorses KitchenAid's  expression of professional performance, artisan quality and iconic design and we are truly thrilled to receive such a prestigious accolade."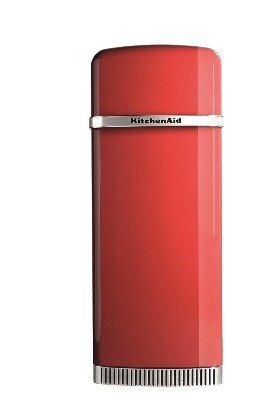 For more information on KitchenAid appliances, please contact your account manager or visit the website at www.kitchenaid.co.uk
For more information on the Red Dot Awards, please visit the website at www.red-dot.org