System UVEX appoints UK sales agent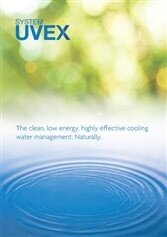 Albion Cooling Systems Ltd, led by Martin Robinson, has been appointed by System UVEX® as the UK sales agency for the firm's water management products.
System UVEX invented the effective and highly sustainable cooling water management system which cleanses the water in cooling towers without using a cocktail of chemicals.
Martin Robinson of Albion Cooling Systems, previously worked for five years as System UVEX's Sales Manager shortly after the company launched.
An expert in the sector, he says: "System UVEX remains the most impressive product range in the prevention of waterborne problems such as Legionnaires' Disease. It offers a host of benefits, in addition to the important fact that it works supremely well. We are therefore pleased to again be involved in selling such an innovative and important range of products which also perfectly complements the other services Albion offers".
System UVEX is cost-saving, energy-efficient, quiet to operate, reliable and avoids the cost and hassle of building users having to handle a quantity of unpleasant chemicals. The latest products have been enhanced to offer additional monitoring and management features making this a state-of-the-art method of treating cooling tower water.
Phil Morter, one of the two directors of System UVEX, said: "We know that customers are in good hands with Albion representing us as Martin Robinson knows the product well and can specify the perfect option for any customer's needs. We are finding more and more that, as well as being specified on significant new construction schemes, existing customers who wish to expand their current usage are procuring our products. This repeat purchase pattern speaks for itself".
To contact the UK sales office for information or a brochure, email: [email protected] or call 01702 331 417.