Taking the most dangerous room in the home and making it safer.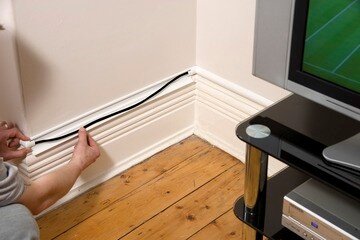 D-Line, the cable management solutions specialist, believes simple steps to tidy wiring from electronic equipment could lie at the heart of making life in the home safer.
According to the Royal Society for the Prevention of Accidents (RoSPA), more accidents happen in the lounge or living room, a place often filled with electricals, than anywhere else in the home.
Paul Ruddick, inventor of D-Line's range of cable management products, said: "We have all heard the statistic about more accidents happening in the home than anywhere else and know of the vulnerability of children and young people. However, when you consider the dangers of stairs, kitchens and bathrooms, it's surprising to hear that the living room is where most accidents take place.
"One hazard in the living room, which can be eliminated quickly and easily, is trailing wiring from electrical equipment. As well as being messy to look at and a dust trap, such cables can create a trip hazard right in the heart of the home.
"Falls are the most common accident there is, so if we can work to reduce that risk then it's a great thing to be able to do. Despite the proliferation of wireless technology, we are still seeing continued growth in the amount of cabling there is in the home, so it makes sense to take action."
D-Line was invented to provide an aesthetically pleasing alternative to channelling walls and hiding cables.
Mr Ruddick said: "People want a number of things from their home but, for most, tidy, clean and safe come high on the list of desirable attributes. It makes sense to be able to tick all of those boxes with a single product that is easy to fit, when possible, and we are seeing our range being sold in 21 countries, which shows this is a universal need across the developed world."